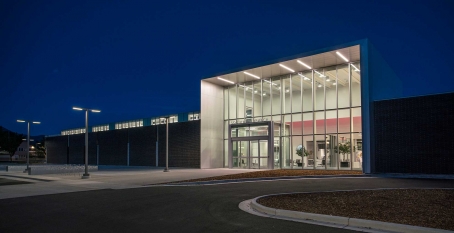 Weber County Library Headquarters
Roy, Utah
Recent research indicates that exceptionalism in practically any field is place-based and a product of a rich and diverse cultural exchange that typically happens in what's called a "third space". That is not the office or home but a forum that is open to a diverse public more than just an eco-chamber of like-minded people. This is the prescription for community libraries as they reposition themselves from a facility to conserve and circulate books to one that is fully digital.
Anticipating a resilient future for libraries, Weber County Libraries replaced a traditional branch library with a new Headquarters Library located in the rapidly expanding population center of Roy, Utah. Thus the new library provides considerable emphasis on community related elements especially those that serve a broad audience. The building includes a black box theatre, a public gallery, flexible multipurpose rooms with catering kitchen, a digitally sophisticated conference room and cyber café. The program includes a secured public reading garden that show-cases indigenous plant materials, xeriscaping and a performance amphitheater with a focus on a community gathering forum. The central natural lighted space suggests historic reading room that opens to the south facing porch, amphitheater and garden beyond in a seamless spatial sequence.
During off hours these public amenities can be directly accessed when the library is closed and the collection secured. In essence there are two buildings within one. The reading room and satellite departments are built with a raised floor that can be easily transitioned from collection storage to digital stations and resource centers. The library showcases to the public its digital prowess by displaying its automated book retrieval system and machine room, as well as the library system's central data center.
Because of the limited amount of after school programs offered by the public school system, the library was purposefully located next to an elementary school. The library has specialized collections and programming areas dedicated for children, preteens and teen or young adult audiences. The reading garden allows for children's active engagement with nature including kite flying, botanical treasure hunts, etc.
The building was designed to Gold LEED standards with the idea it is a showcase for sustainable design. Some of the sustainable design strategies include copious daylighting throughout, passive solar design at the south facing windows, use of regional materials high in recycled content, flexible open spaces and building systems designed to accommodate change, and energy efficient lighting and mechanical systems.
The site maximizes its open space with the use of native landscaping that is organized with consideration to the building's form and views. Formal plant beds are orchestrated as extruded planes of color originating from the ground plane and fenestration to the outdoor garden areas. Plant material selections give consideration to the change in seasonal colors and textures that occur from the blooming flowers of spring to the red and orange leaves of fall.
Images